We help residents live healthier and happier.
We create and preserve homes for residents.
We help residents access education, jobs, training,
social services, and fresh healthy food.
We prevent residents from displacement and work with stakeholders
to improve the City's housing and development policy.
OUR IMPACT:
Each year, Fenway CDC improves the lives of over 2,500 adults, children, and youth through 5,000 services and a wide range of community activities. We provide affordable housing, connect residents to social services, career-furthering education opportunities, employment, and fresh foods. Residents who come to Fenway CDC build job skills, gain financial literacy, and learn healthy habits.
Fenway CDC enriches the neighborhood by helping to organize the Fenway Porchfest music festival and family events for Halloween and Thanksgiving. Fenway CDC works with organizations across Boston to train citizens to advocate for improve housing policies that will protect families from eviction; create more funding for affordable housing; and increase the number of affordable units.
LATEST NEWS & EVENTS:
The Fenway Ball
Wednesday, June 22, 2022
6pm – 9pm
Harvard Club of Boston (Backbay)
374 Commonwealth Avenue, Boston MA 02215
Join us for the Fenway Ball Gala to celebrate Fenway CDC's community partnerships and accomplishments. Enjoy an evening of networking, delicious food, music, and dance. Become a sponsor or get your tickets here.
Southend/ Lower Roxbury Fair Foods
June 16, June 30, July 14, & July 28, 2022
Every other Thursday, 12pm to 3pm
607 Columbus Ave, Boston
Newcastle Saranac Community Space
Residents with food insecurity are welcome to get a free bag of fresh nutritious food, while supplies last.
Fenway CDC is Hiring
An Asset Management Associate– For job description, click here. Resume evaluation begins June 20, 2022. To apply, please email your resume and cover letter  to projects@fenwaycdc.org
A Career Specialist- For job description, click here. Resume evaluation for this position begins July 5th, 2022. To apply, please email your resume and cover letter  to projects@fenwaycdc.org
Latest News!
On July 15th, the Baker-Polito Administration announced that Burbank Terrace, Fenway CDC's 27-unit 100% affordable new construction project at 72 Burbank St., has been awarded funding through the state Dept. of Housing & Community Development (DHCD). Burbank Terrace is among 28 recently awarded projects in the Commonwealth to receive direct subsidy and state and federal Low Income Housing Tax Credits from DHCD for the creation of affordable rental housing. The City of Boston is also supporting the project with $2.8 million.  We are excited about this incredible opportunity to expand access to affordable housing in the Fenway.  
Boston Park Rangers Collaboration on Geese Control
At the urging of many neighbors, Fenway CDC continued our efforts to support the Boston Park Rangers's Canada Goose egg addling initiative in the Fens by helping them purchase needed supplies, a fiberglass boat, and protective gear. We greatly appreciate this beautification grant fund from the Red Sox Community Benefits administered by the Boston Planning Development Agency. We also thank the Park Rangers for their important wildlife management work to keep the Fens healthy and beautiful!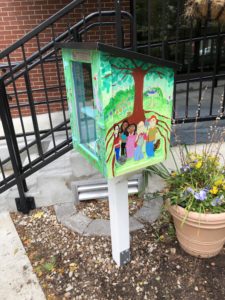 Fenway Little Free Libary is Open!
The Fenway Little Free Library is near the corner of Burbank Street and Edgerly Road, on your way over to Symphony Park (31 Burbank Street). Anyone
can use the Little Library. The books inside will be free for anyone to exchange and read. Little Free Libraries operate on a 'take a book, leave a book' basis. If you take a book, you don't have to return it, and if you leave a book, someone else may take it home with them and replace it with a different book. Books left should be appropriate content for other readers, and a reminder: items other than books shouldn't be left in the little library.  Please wear a mask and be respectful of space between neighbors when visiting the Little Library. Questions? email Madeline Lee at
mlee@fenwaycdc.org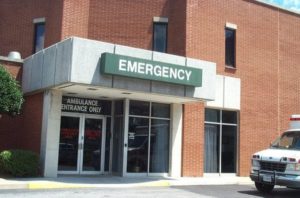 Health Care Institutions Invest In Tenant Protections for Community Health
Fenway CDC was named the lead agency for a $500,000 "focused investment" grant from the BIDMC initiative in December 2020. Along with four partner groups, Fenway CDC will use the grant to "organize and campaign at the city and state level to move legislation, budget items, and policies that will increase funding for affordable housing and rental subsidies, further fair housing, and improve tenants' rights." Read
article
 from Shelterforce.org
Fenway CDC's New "Burbank Terrace"
Fenway CDC's first "ground-up" development in decades! FCDC proposes to construct a 27-unit rental building on a vacant parcel at 72 Burbank St. in the Fenway. Fenway CDC is changing an approved 32-unit market-rate project to a 27-unit, 100% affordable housing development.
The updated project has an increased number of 2-bedroom units to serve a much greater range of household sizes and types. Residents of the building will have access to shared amenity space, a laundry room, bike storage, and free bike share passes!
Fenway CDC thanks Beth Israel Deaconess Medical Center (BIDMC) /Beth Israel Lahey Health for supporting our work. Fenway CDC is the lead organization in a new partnership with Boston Tenant Coalition, Homes for Families, Mass Law Reform Institute, and the Greater Bowdoin Geneva Neighborhood Association.  We will organize and campaign together at the City and State level to move legislation, budget items, and policies that will increase funding for affordable housing, rental subsidies, further fair housing, and improve tenant rights. Our vital work will help address the homelessness crisis in the Commonwealth. BIDMC selected our coalition as one of 17 local organizations to receive funding for impactful initiatives in the areas of housing affordability, jobs and financial security, and behavioral health. This is BIDMC's first major investment through its Community-based Health Initiative.
 Lifeboat Boston Food Pantry
Every Thursday, 4pm – 6pm
Boston Temple, 105 Jersey St., Boston
Free, fresh food is available to Boston residents with food insecurity. Sign up here. For inquiries, contact lifeboatboston@gmail.com. In collaboration with Boston Temple, Lovin' Spoonfuls, Food Link, Fair Foods, Fenway CDC, and in-kind sponsors.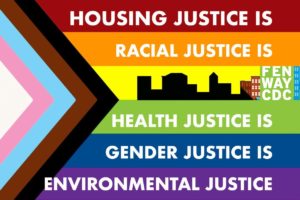 We Protect Each Other When We Protect Everyone
Fenway CDC is committed to justice in housing, which means that building racial, health, gender, and environmental justice are essential to our work too. To share your ideas for how Fenway CDC can further advance equitable service through action, please email Madeline Lee at mlee@fenwaycdc.org. Please share poster 1 and poster 2..
Fenway's Urban Village Committee
If you are interested to help monitor and review development projects, please contact Richard Giordano at
rgiordano@fenwaycdc.org
for more details.
Fenway Cares
Fenway Cares is a mutual aid collection of 6 area non-profits comprising of Fenway CDC, Audubon Circle Neighborhood Association, Fenway Alliance, Fenway Civic Association, Fenway Community Center, Operation P.E.A.C.E.. We provide food access program and share resource resources with community residents. Details
here
.
Free Job Search Service
Participants will learn job search skills, resume and cover letter writing, interview preparation, and time management tips. To arrange your phone or conference call session, please contact Kris Anderson at kanderson@fenwaycdc.org  or (617) 267-4637 x 29.
Free 1-1 Financial Coaching 
Please contact Kris Anderson at (617) 267-4637 x 29 or kanderson@fenwaycdc.org to arrange for telephone counseling.
Newcastle-Saranac 
Fenway CDC and the Schochet Companies closed $53 million Tax Credit Equity and Construction Financing for Newcastle Saranac Apartments in the South End/Lower Roxbury neighborhood in Boston. Read press release
here
.
Community Investment Tax Credits (CITC)
Invest in Fenway CDC's work by contributing $1,000 or more and receive 50% refund through our tax credits. Together, we'll build a better Fenway for everyone to live, learn, work, and play! For inquiries, please contact Iris Tan at itan@fenwaycdc.org.
Read more about our residents' vision for the Fenway!