We help residents live healthier and happier.
We create and preserve homes for residents.
We help residents access education, jobs, training,
social services, and fresh healthy food.
We prevent residents from displacement and work with stakeholders
to improve the City's housing and development policy.
OUR IMPACT:
Fenway CDC improves the lives of over 1,000 adults, children, and youth each year. We help them access affordable housing, social services, education,  job skills training, employment, fresh produce, financial coaching, health programs, and civic engagement activities. 2020 Impact Report. 2019 Impact Report.
LATEST NEWS & EVENTS:
Fenway CDC 48th Virtual Annual Meeting  
Special thanks to all our supporters and keynote speaker – Chuck Collins for joining us at our first ever virtual annual meeting on April 29th and made it a great success!!! Enjoy the virtual event recording at this
link.
Congratulations to our raffle winners:
Amazon gift card $100: Margaret Campbell
Nine books titled 'The Wealth Hoarders: How Billionaires Pay Millions to Hide Trillions'  by Chuck Collins.
1. Nadine Sanchara
2. Kate Deeran
3. Eduardo Gonzalez
4. Mary Pymm
5. Matti Kniva Spencer
6. Tracey Cusick
7. Siobhan O' Connor
8. Jennifer Schumann
9. Janice Louissaint
If you are one of the 10 winners, please email Hang Le at
hle@fenwaycdc.org
to receive your raffle prize.
Fenway Community Success Survey
Hi/Hola/नमस्ते,
I hope you are doing well and enjoying the snowy weather! As a friendly reminder: Fenway CDC is releasing a Community Success Survey to target better programming and assess how we can improve services to foster a stronger neighborhood! We want to hear from YOU!
Survey Time: 10-15 minutes
Raffle Prizes: Air Fryer, Noise-Cancelling Headphones, Amazon Fire Tablet, and more! The earlier you take the survey, the higher your chances are of winning a prize!
Survey here: https://ncv.microsoft.com/Z5pLOHQHUz
Fenway CDC's New "Burbank Terrace"
Fenway CDC's first "ground-up" development in decades! FCDC proposes to construct a 27-unit rental building on a vacant parcel at 72 Burbank St. in the Fenway. Fenway CDC is changing an approved 32-unit market-rate project to a 27-unit, 100% affordable housing development.
The updated project has an increased number of 2-bedroom units to serve a much greater range of household sizes and types. Residents of the building will have access to shared amenity space, a laundry room, bike storage, and free bike share passes!
Fenway CDC thanks Beth Israel Deaconess Medical Center (BIDMC) /Beth Israel Lahey Health for supporting our work.
Fenway CDC will be the lead organization in a new partnership with Boston Tenant Coalition, Homes for Families, Mass Law Reform Institute and the Greater Bowdoin Geneva Neighborhood Association.  We will organize and campaign together at the City and State level to move legislation, budget items, and policies that will increase funding for affordable housing, rental subsidies, further fair housing, and improve tenant rights. Our vital work will help address the homelessness crisis in the Commonwealth. BIDMC selected our coalition as one of 17 local organizations to receive funding for impactful initiatives in the areas of housing affordability, jobs and financial security, and behavioral health. This is BIDMC's first major investment through its Community-based Health Initiative.
Fenway Fair Foods
May 5, May 19, June 2, June 16, and June 30
Every other Wednesday
3:30pm to 5:00pm
Come get a free bag of fresh fruits and vegetables. Residents in need can arrange no contact home delivery. To volunteer, see
details.
 For inquiries, please contact Jasmine Vargas at
jvargas@fenwaycdc.org
or (617) 267-4637 x 13. Special thanks to Fair Foods and WS Development for supporting this program.
 Lifeboat Boston Food Pantry
Every Thursday, 4pm – 6pm
Boston Temple, 105 Jersey St., Boston
Free, fresh food is available to Boston residents with food insecurity. Sign up here. For inquiries, contact lifeboatboston@gmail.com. In collaboration with Boston Temple, Lovin' Spoonfuls, Food Link, Fair Foods, Fenway CDC, and in-kind sponsors.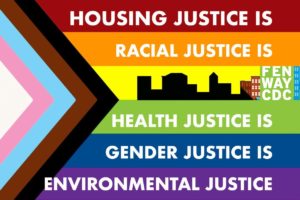 We Protect Each Other When We Protect Everyone
Fenway CDC is committed to justice in housing, which means that building racial, health, gender, and environmental justice are essential to our work too. To share your ideas for how Fenway CDC can further advance equitable service through action, please email Madeline Lee at mlee@fenwaycdc.org. Please share poster 1 and poster 2..
Fenway's Urban Village Committee
If you are interested to help monitor and review development projects, please contact Richard Giordano at
rgiordano@fenwaycdc.org
for more details.
Support Fenway Restaurants and Businesses
Please support Fenway restaurants and businesses! Get take-out, arrange delivery, enjoy dining, or buy gift cards. Please visit this
page
to see a list of restaurants and businesses that are opened or are temporary closed.
Fenway Cares
Fenway Cares" is a collective of Fenway community organizations (Fenway CDC, Fenway Civic Association, Fenway Community Center, Operation P.E.A.C.E., and Fenway Alliance) and volunteers share resource information and services with Fenway residents during the COVID-19 pandemic. Details
here
.
Free Job Search Service
Participants will learn job search skills, resume and cover letter writing, interview preparation, and time management tips. To arrange your phone or conference call session, please contact Kris Anderson at kanderson@fenwaycdc.org  or (617) 267-4637 x 29.
Free 1-1 Financial Coaching 
Please contact Kris Anderson at (617) 267-4637 x 29 or kanderson@fenwaycdc.org to arrange for telephone counseling.
Newcastle-Saranac 
Fenway CDC and the Schochet Companies closed $53 million Tax Credit Equity and Construction Financing for Newcastle Saranac Apartments in the South End/Lower Roxbury neighborhood in Boston. Read press release
here
.
Community Investment Tax Credits (CITC)
Invest in Fenway CDC's work by contributing $1,000 or more and receive 50% refund through our tax credits. Together, we'll build a better Fenway for everyone to live, learn, work, and play! For inquiries, please contact Iris Tan at itan@fenwaycdc.org.
Read more about our residents' vision for the Fenway!