Fenway CDC is well known for our success at providing affordable housing opportunities for low- and moderate-income families and individuals. We have, on our own and in partnership with others, developed over 600 affordable homes which housed thousands of residents over the past four decades.
We work to preserve the existing affordable housing in the neighborhood and create new stock of mixed-income housing to meet the increasing needs of low- and moderate-income families and individuals. We plan to achieve this by pursuing new opportunities and collaborating with private developers and our institutional neighbors.
Resources for Those Looking for Housing 
We are excited to announce that low-income individuals and households seeking affordable housing can use the newly-launched Housing Navigator to find opportunities for housing throughout Massachusetts. They can also access similar information on the well-established HousingWorks website.
Fenway CDC's properties are managed by independent management company. If you are interested in renting homes that are affordable, please contact:
Peabody Properties, 66 Westland Ave, Boston, MA 02115.
Telephone: (617) 267-6114  Email: fenwaycdc@peabodyproperties.com 
Fenway CDC's recent acquisition of 97 units at Newcastle-Saranac enabled us to protect existing tenants from displacement and preserve the long-term affordability of the property. This was the second 13A expiring-use property preserved in two years. This property is located at Columbus Avenue/Mass. Ave, Boston and is managed by The Schochet Companies. Watch the preservation of Newcastle-Saranac Celebration here (video: 57 seconds). The full event link is here. (video: 47 minutes 31 seconds).
If you have any questions regarding housing-related services, please contact:
Office telephone: 617- 307-5951
Office hours are Monday through Thursday, 8:00 am – 5:00 pm
599 Columbus Avenue, Boston, MA 02118
Burbank Gardens, 31 Burbank Street
Burbank Gardens is a 52 unit residential apartment building of mixed income housing located on Burbank Street in the heart of the Fenway. The property is comprised of Studio, one and two bedroom apartment homes. Fenway CDC acquired this residential building in 2017 to preserve its long-term affordability and prevent residents from displacement.
15-25 Hemenway Apartments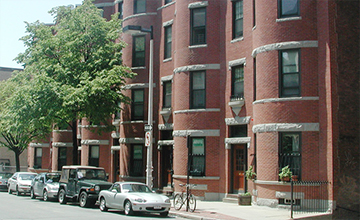 Fenway CDC worked with the residents and the Massachusetts Historical Society to preserve these homes and ensure long-term affordability of the 24 apartments. This property provides affordable homes to a range of income groups.
This 20-unit property has been owned and operated by Fenway CDC since 1986. In 2000, Fenway CDC completed a substantial rehabilitation of the building.
In March 1990, Fenway CDC acquired and rehabilitated a foreclosed lodging house on Hemenway Street as part of collaborative project that included the Department of Mental Health and the AIDS Action Committee. Two years later, Fenway CDC succeeded in creating "supported housing" for people with chronic mental illness, AIDS/HIV, and other special needs. Hemenway House is home to 13 residents, with on-site staff.
In 1985, 53 units in two five-story buildings at 64-70 Burbank Street were converted to condominiums by Bill Lilly, the self-proclaimed "Condo King." Lilly sold the majority of the shoe box-size units to absentee owners who sought to make a quick profit on their investment.
With the collapse of the real estate market in the early 1990s, 64-70 Burbank Street became a case study in the pitfalls of absentee-ownership and real estate speculation. In 1992, Fenway CDC rescued this failed condo and the surrounding neighborhood from absentee owners by initiating a four-year legal battle and political campaign to gain control of the buildings.n 1995, Fenway CDC refurbished the buildings into 36 apartments, 31 of which are affordable to low- and moderate-income residents. Reclaiming these buildings has done much to restore the sense of stability to Burbank Street and the surrounding community.
In 1990, Fenway CDC completed the first construction for housing development since the 1930s at the corner of Kilmarnock and Peterborough Streets.  The building, located at 108 Peterborough Street, included 55 mixed-income units. In 2006, Fenway CDC converted the building to a condominium known as Fenway Views. It has retained ownership of the 22 units, renting them to low-income residents, while selling the 33 market-rate apartments.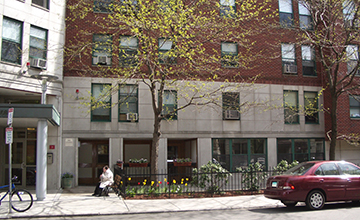 The West Fenway Apartments at 110 Peterborough Street were developed and completed alongside the Fenway Views project. This building is comprised of 48 affordable apartments for elderly and handicapped residents, including the first apartments in the nation set aside for individuals with HIV/AIDS.
Westland Avenue Apartments
In 2006, Fenway CDC completed the renovation of Westland Avenue Apartments, 96 units of mixed-income housing in four buildings near Symphony Hall. Fenway CDC purchased the buildings to preserve affordability that was at-risk as federal affordability restrictions were about to lapse.