Fenway CDC thanks Pastor Hall of Boston Temple, Melissa Ghulam and Kevin Smith (Founders of Lifeboat Boston Food Pantry), and Glacier Gray for working during this challenging time. See photo from left to right: Melissa Ghulam, Kevin Smith, and Glacier Gray. They and their team of dedicated and compassionate volunteers continue to ensure that vulnerable Boston residents with food insecurity have access to fresh fruit, vegetables, and food products. Every week they flex their muscles to pack and distribute free fresh food to community residents.
We also appreciate Fair Foods for contributing 1,000 pounds of fresh produce for every Tuesday's food distribution.
Fenway CDC is grateful to Park Street Church for their ongoing distribution of face masks to residents in need during food pantry events.
Fenway residents (Jamie, Sally, Kate, Jose, Yohanis, Chinyere, Enid, Jordan, Fenway CG) donated food to residents at 110 Peterborough Street. We thank them for their kindness and generosity and making our residents smile.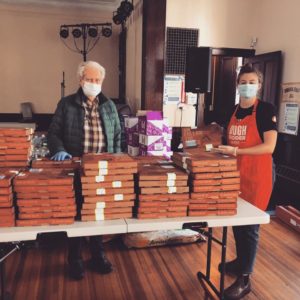 Fenway CDC introduced Blaze Pizza Fenway to Lifeboat Boston Food Pantry and they kindly donated 100 DIY Pizza kits on May 26th to residents with food insecurity.
Fenway CDC thanks Judy Narosny for continuously making beautiful and functional handmade masks and the Park Street Church for another large batch of colorful masks in children's sizes as well.