Education Advancement
Sharing Jailene's story:
"My name is Jailene. This is my son Zion. I'm 23 years old. During my journey of returning back to school, I faced many challenging situations. I had ended up in and out of homes not knowing where my child and I would sleep the next day. I always wanted to continue my education. I just didn't know where to start. Working part-time as a driver was the only way I supported the family and I was nearly homeless.
Currently I am studying a certificate program in Cyber Security at Cambridge College in Boston. The opportunity to connect with Fenway CDC helped me make hard decisions whether to work, to study, or which bills to pay. During some of the darkest moments of my life, I called Fenway CDC and their staff welcomed me to their office to have a conversation. They gave me advice and assistance on ways to tackle life problems. Through their food access program, I receive free nutritious food.
My dream is to be a business owner and successfully raise my son to be a healthy and happy person. Thanks to Fenway CDC's IT/Tech program, I received career counseling, support services, and a $2,000 education stipend." –
Life in 2020 Covid Pandemic
Fenway CDC thanks Pastor Hall of Boston Temple, Melissa Ghulam and Kevin Smith (Founders of Lifeboat Boston Food Pantry), and Glacier Gray for working during this challenging time. See photo from left to right: Melissa Ghulam, Kevin Smith, and Glacier Gray. They and their team of dedicated and compassionate volunteers continue to ensure that vulnerable Boston residents with food insecurity have access to fresh fruit, vegetables, and food products. Every week they flex their muscles to pack and distribute free fresh food to community residents.
We also appreciate Fair Foods for contributing 1,000 pounds of fresh produce for every Tuesday's food distribution.
Fenway CDC is grateful to Park Street Church for their ongoing distribution of face masks to residents in need during food pantry events.
Fenway residents (Jamie, Sally, Kate, Jose, Yohanis, Chinyere, Enid, Jordan, Fenway CG) donated food to residents at 110 Peterborough Street. We thank them for their kindness and generosity and making our residents smile.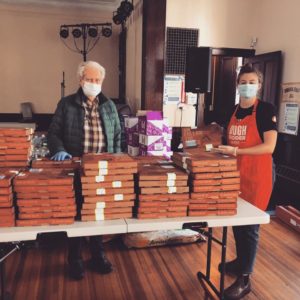 Fenway CDC introduced Blaze Pizza Fenway to Lifeboat Boston Food Pantry and they kindly donated 100 DIY Pizza kits on May 26th to residents with food insecurity.
Fenway CDC thanks Judy Narosny for continuously making beautiful and functional handmade masks and the Park Street Church for another large batch of colorful masks in children's sizes as well.